---
---
Sermons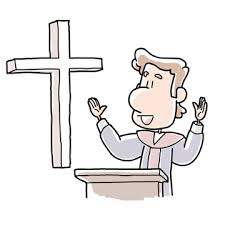 Click on the following sections to find out more information.
Quarterly Message
The quarterly message is found at the beginning of the newsletter.
Sermon
September 23, 2018
September 9, 2018
September 2, 2018
---
September 23, 2018


Barry Sale
Once upon a time, a teenaged daughter complained to her father that her life was miserable. She had no friends, there was nothing to do, life was no fun, and her mother hated her. Her life, she said, was miserable, and she didn't know how she could possibly stand it anymore. She was tired of struggling all the time and it seemed that just as soon as one problem was dealt with, another one followed.
Her father, who happened to be a chef, took her into the kitchen. He filled three pots with water and placed each one on high heat. Once the water began to boil, he placed potatoes in one, eggs in the second, and some ground coffee beans into the third.
He let them sit and boil without saying a word. The daughter sat there feeling sorry for herself and moping, wondering what the heck he was doing. After about 20 minutes, he turned off the burners. He took out the potatoes and placed them in a bowl, then did the same for the eggs. Then he poured some of the coffee out into a cup. Finally, he turned to his daughter and asked "well, Honey, what do you see?"
"Potatoes, eggs, and coffee." she replied.
"Look closer," he said, "and touch the potatoes." She did, and felt that they were soft to the touch. Then he asked her to take an egg and break it. She did, and after removing the shell, she had a hard-boiled egg. Finally, he asked her to sip the coffee. She did, and its aromatic smell and rich taste brought a reluctant smile to her face.
"So, what does this all mean?" the daughter asked. The father explained to her that the potatoes, the eggs, and the coffee had each faced the same major adversity – the boiling water.
However, each had reacted differently. The potato went into the pot strong, hard, and unrelenting, but in the boiling water, it became soft and weak. The egg went into the pot fragile, with only a thin outer shell protecting a liquid interior, but in the boiling water, the inside of the egg had become hard and resilient. The ground coffee beans, on the other hand, were unique. After their exposure to the boiling water, they caused that water to change into something new and delicious.
"Which are you?" asked the father. "When adversity knocks on your door, and it always does, how do you respond? Do you get weak and turn to mush? Does the adversity toughen you up on the inside? Do you take the adversity and turn it into something positive? Are you a potato, an egg, or a coffee bean?"
In life, things happen around us, things happen to us, and things happen because of us, but the only thing that matters is what happens within us. Adversity and change affects us all. It's how we respond to that change that strengthens us, softens us, shapes us for the better or the worse, and moulds our characters as we move through our lives.
This morning's Old Testament reading deals with the positive aspects of change. When the words were written, the people of Judah were gradually returning home to Jerusalem and surrounding areas after many years of exile in Babylon. The city and the lands around it were virtually destroyed. Everything had to be rebuilt and reimagined. Isaiah, rather than continuing his oracles of judgement and pessimism that he had been doing during the exile, now switches to a vision of restoration and peace throughout Judah.
He describes a transformation of the old into "a new heaven and a new earth" full of prosperity, joy, health, and peace. This whole new society would be in accordance to God's plan, and would come about as the people forged a whole new relationship with God.
There's a lesson here for us today. The United Church of Canada is making some radical and soul searching moves to change its governance. Every pastoral charge in Canada will be affected. No longer will we have Presbyteries. Conferences will be larger – ours will take in all of BC, most of Alberta, and the Yukon as well. Pastoral charges will be encouraged to form small networks and do more outreach at the local levels. It's a seismic shift from the governance model the church has had for almost the past 100 years, and it's an effort to put more control at the local level and to reverse the trend of having one United Church every week close its doors for good.
Our own congregation also faces a time of change as well. For the past several years our own numbers have been dwindling, and we are reaching a point where we may be unable to sustain our own pastoral charge. We have just recently ended our covenant with our minister – it was not the fit that we had hoped for – so now we will soon be starting the process of finding another pastor. St. Andrew's is currently at a crossroads, a crossroads of change. What we decide to do in the next few months may well determine whether or not we even have a St. Andrew's in the years to come.
Rev. Linda's leaving should be both a warning and an opportunity for us. A warning, because we were not blameless in the parting. We are, whether we like to admit it or not, resistant to change. We do not communicate well; we do not have a well-defined vision of where we want to go and how we want to get there; we follow a governance structure which is partly Board based and partly committee based and which may be inefficient; and we have reached the point where very few of our congregation want to be involved with the current structure. As a group, we seek to avoid conflict, rather than to address situations head on and follow through on the decisions made.
We have an opportunity here too. We are, if nothing else, a people with a strong faith and a sincere commitment to seeing St. Andrew's continue and prosper. We have a deep concern and care for one another. We have a beautiful building – the "Cariboo Cathedral" – we take pride in it and we believe in its importance and relevance for our community. Individually, and in the groups that operate in our church, we have a great deal of strength, energy, and compassion. We have the potential to be so much more than we are at present.
So what do we do? Where do we go from here? I would suggest that before we start looking for a new minister, we do three things:
Review the vision that we have for St. Andrew's. Reconsider and revise it as necessary, and make sure that we all know where it is we are heading.


Look at our church governance model. We have a new one almost ready to go. Is it what we really want? Is there another model which might be better for us? We need to decide how we want to run this church, and then stick to it.


Start thinking "outside the box". It seems clear to me that if we are going to survive as a church, St. Andrew's will have to reinvent itself in one way or another. We need to hear some new ideas, to talk about them, and to see if we can use some or all of them to make lasting changes.
Once we have looked at and addressed these three issues, then we can start searching for a minister who will help us follow our vision, keep to our governance, and explore how to make change happen.
We are on the cusp of new and probably exciting times for the United Church as a whole, and for St. Andrew's in particular. One thing is certain – if we keep on doing the same things in the same way and expecting change to happen, we are on the wrong track. We need to look at ourselves and our community with fresh eyes and with new ideas.
For the next while, we will be a lay-led congregation, just like 100 Mile House and Quesnel. During that time, we can sit back waiting for changes to happen, or we can work to be part of the change process.
Isaac Newton's first Law of Motion states: "Everything continues in a state of rest unless it is compelled to change by forces impressed on it." St. Andrew's can no longer continue in a state of rest.
Let us each use our own talents to strengthen St. Andrew's to find solutions to our problems, and to bring about change and renewal.
May it be so in your life, and in mine.
Amen
---
Announcements
This week's events and announcements
---
September 9, 2018
By Rev. Jenny Carter
Like every culture and religion we too have our creation stories. Yup, it's plural. Our bible has two of them, both found in Genesis. One speaks of the creation of the cosmos – the ground beneath our feet, the sun and the moon and the stars – and how every molecule, every piece of dirt, drop of water, ray of sunshine, and every living animal and fish and bird is infused with the divine. A fact which any of us who are caught up in the wonder and awe of a sunset, or the stillness of a forest, or the peaceful prayers of reassurance uttered by a stream burbling along its course, have no trouble believing. I am always overcome with a sense of God's presence when I get out into the natural world and let the wonder of it all speak to me. Then we have the other creation story: the more ancient and detailed description of the creation of humankind. It details why we were created – created to be in relationship with God, each other, and our world. Our ancestors in the faith knew that these stories were meant to help them see God in everything and to help them know that their God was one that sought to bring order out of chaos by healthy, strong, and right relationships. Yet somehow, over the millennia we humans lost sight of that, and tried to make our creation stories into something they were never intended to be – we sought to make them literal history. In the past 150 years certain Christians among us claimed that Genesis was science – that the earth was a little over 5,000 years old, God hid the dinosaur bones to confuse us and test our faith, and that any other science – like evolution – was unfaithful. Our creation stories are not science, they are not descriptions of "how" the universe and our world were created; our creation stories tell us the "why" of it all. Science and faith have a common goal – to help us understand. Science helps us see the "how" and faith the "why". God created so that something beautiful might emerge – the beauty of every living thing being in a balanced, just, harmonious relationship. A pretty good definition of divine love, don't you think?
So, now that our preliminaries are over, we need to tackle the passage that we heard read this morning. The passage where we heard "Let us make humankind in our own image… and so God created, male and female." Each one of us here this morning, and every other human in the world, is created in the image of God. There is some part of us, perhaps in our make-up, our DNA, our souls, that bears God's image. So, what is that? What part? It's a deceptively tough question – at first it appears as an "of course we are created in God's image." But what we actually do with that is we often make God into our image. So God looks like us, feels like us, is angry with the same people we are angry with, likes what we like, hates what we hate – and will fight our wars on our side. So much of Jesus' time was spent disabusing us humans of this false notion. There is a reason Jesus spoke to, hung around with and loved sinners and outcasts and foreigners. He was trying to help us see God clearly, and when we do that, we learn that God doesn't take sides. God calls us back into relationship with everyone and everything.
So what does it mean to be created in the image of God? As you sit there, and I stand here, what is it in who we are that bears the divine imprint? Well, we worship a God who creates, we know this from Genesis, and we certainly know that God is always seeking to recreate because Jesus talked a lot about that – in fact, it was at the heart of everything he said. So, the divine image we carry in us is the ability to create. To quote Mary Daly, "it is the creative potential itself in human beings that is the image of God."
Inside each one of us is the ability to create – but in most of us the ability to create is stored as potential. It's in us we just don't access it or unleash it. I'm not talking about creativity as expressed in art forms – although I am sure that that kind of creativity is a part of the big picture – I am talking about the potential to create, or recreate our lives and our world. The kind of creating that God has done and continues to do. Each one of us has this ability – we have everything within arm's reach to create just like God: to create order out of chaos by focusing on our relationships – making them just, and harmonious, and loving. Within each one of us we have the potential to change the world by changing our little corner of it. Within each one of us we have the potential to understand that when dealing with relationships, as defined by our faith, we aren't just talking about the relationships between humans – we're talking about our relationship with the natural world as well. All things are connected, all things are in relationship, (faith and science agree on this point) and our only task is to create good relationships with all parts of creation.
Yet this God given ability is often left to idle inside of us. That is why the earth is getting hotter, the oceans are filling with carbon, the economy favors the very rich, families struggle, and wars are fought. We humans have forgotten to unleash the divine ability to create like God creates. We have either forgotten, or chosen not to, attend to the web of relationships within which we live; the web of relationships which actually give us and our planet life. When I think about why it is that I don't unleash this creative potential that lives inside of me more often, I think it has to do with complacency and comfort. Almost all of us live in certain comfort zones – I certainly do – we get comfortable in our lives; comfortable with how things are. Now, that is not to say that everything in our comfort zones is positive – on the contrary, a lot of what is in those zones is anything but positive – we've just learned to live with it. We've learned to live with a certain amount of family fighting; a certain amount of global warming; a certain amount of war; a certain amount of hate. We keep on keeping on – and we wonder why things don't change for the better.
When I was researching potential I came across a diagram that explains the idea of comfort zones and potential quite well. While it is very technical, I will do my best to explain in words what is better left in the form of a picture. If this little circle is our comfort zone, that place where we have learned to live with the good, the bad, and the truly ugly, we need to go where the magic happens – and the magic happens out here - outside of our comfort zones. There is a saying, "a ship is safe in the harbor, but that isn't what ships were created for." We too are "safe" in our comfort zones, but that is not what we were created for. We were created to go out onto the seas of life, and risk the storm, and in so doing, unleash the spark of divine creativeness that is inside of all of us. Gandhi was right – the difference between what we do and what we are capable of doing would solve most of the world's problems. When people step out of their comfort zones and dare to risk, and they do so in sufficient numbers, there comes a tipping point – a point at which a certain synergy – where the effect is far greater than the sum of the parts – happens. This works. We've all seen it work: the women's movement, the civil rights movement, and in Gandhi's work for independence of India. We've seen it work in the life, death, and resurrection of Jesus Christ. So why don't we believe it will work in our own time, with global warming, carbon loading, and in our own families?
The Genesis reading is a timely one. It reminds us that inside of each one of us is the ability to change – to grow – to become more. We, as individuals can be more than we currently are – we can become better people and have more meaningful relationships. We, as humans, can be more than we currently are – we can have good relations between nations, wars can end, hate can end – we can be the human family God created us to be. We, as creation, can be more than the broken earth we have become – we can be the picture of Eden that God first envisioned. But first we need to be willing to leave the safe harbor of our comfort zones. We don't discover our creative potential by thinking about it – we discover it by getting out there – by speaking our truth – our truth about things like Enbridge and the northern pipeline, whether we are pro or con. It means speaking our truth in our closest relationships – and naming that which needs to be changed. It means speaking our truth to ourselves – and stopping our own behaviours that do not foster good and right relationships with others and all of creation. Each one of us here this morning is created in the image of God – you have the potential to make the world and your lives better – the only thing left to decide is "will you"?
May it be so in your life and in mine.
Amen.
---
Announcements
This week's events and announcements
---
September 2, 2018


By Rev. Franklyn James
via Together We Worship
I greet you in the name of Yahweh the creator, Jesus Christ my savior and redeemer of all people, and the Holy Spirit all within side us.
Today I want to share a thought. The thought we want to look at is not only for the ear and the eye – not only for the ear and the eye. This is very important for persons of faith. That as we travel on our faith journey we realize it takes more than the reading of sacred text to become what is said in those texts.
Indeed, many people say that we are living an angry world. What do you think?
When we watch or listen to the various information media, listen to the conversation around us, or read the newspaper, it seems to be so. We're encouraged to express our anger, voice it, don't keep it in. While it is important to express ourselves in healthy ways, many of us do not know how to do this.
I must point out that each word we use has various personal meaning and nuances. The right word spoken at the right time, can win us love, harmony and wealth. While the wrong word can take life from another. Likewise, the right word spoken in the wrong manner can lead to the loss of life.
As long as we can remember, humanity engaged in activities that lead to a life of meaning and promoting happiness. We seek to preserve life and a purpose for living yet throughout history we read about people who use their words to kill and take life from another. When I use the word life, I am using it both in the metaphorical sense as well as the literal sense. I am alive and well. I am striving to grow to achieve to become someone who contributes to the society in a valuable way. I am alive, I am a living being.
With this way of looking at life we can then see that as long as people are around, our words have important meaning. They create harm ¬they create harmony. One period we can look at is the holocaust in the 1930s in which a set of people used hate language in a way to eradicate another set of people from the face of the earth. There are many similar activities like this in our recent period. We have used the power of words to transform our thoughts and behaviors and those of others. We have used our words to persuade others to act tyrannically or compassionately. We have used our words to shape language itself.
Many of is use words like guns and swords to shoot down others and pierce the soul. We are verbal assassins in our personal words and social words. Too often we unwittingly become life takers and slayers because we do not pay attention to the things we are saying to ourselves and to each other. This cycle of verbal abuse and assassination can only be changed by modifying the way we think and speak.
Now to illustrate this point, I want us to look at a passage in our sacred text, it is James, chapter 1, reading from verse 19 to 25. it reads:
You must understand this, my beloved: let everyone be quick to listen, slow to speak, slow to anger; for your anger does not produce God's righteousness. Therefore, rid yourself of all sordidness, and rank growth of wickedness, and welcome with meekness the implanted word that has the power to save your souls. But be doers of the word, and not merely hearers who deceive themselves. For if any are hearers of the word and not doers, they are like those who look at themselves in the mirror; for they look at themselves and on going away, immediately forget what they were like. But those who look into the perfect law, the law of liberty, and persevere, being not hearers who forget but doers who act ¬ they will be blessed in their doing.
To help us with this task of modifying or changing the way we think so we can not only speak the word of life, but to do what God requires, James gave us practical advice. This reflection not only for the ear and the eye, points to the practicality of this aspect of James' writing. The passage is also James' first major point in his writing that deals with the immorality and the destructiveness of the tongue. His first command regarding the tongue is to silence it. Instead of talking – listen. James' emphasis is not on how much we listen but the timeliness of our listening – listen first and be quick about it. The corresponding statement is be slow to speak. James also reminded us to be doers of the word and not hearers only. Reading and reflection of the scriptures must lead to action. Anyone who hears the word without obeying it deceives themselves, their faith is false.
Our passage also advises readers to get rid of all moral filth and the evil that is so prevalent and humbly accept the word planted in us which is able to save us. The word planted in us is designed to bring forth a harvest of righteousness in our life. This is accomplished through reading, hearing, meditating, and obeying the scriptures.
Now, to illustrate this point, I want to draw your attention to my little corner here. First I have with me some green colouring. Green represents prosperity, green represents growth. If you go into the forest, you will realize that deep in the forest, it is green it is lush, and it's teeming with life. This green symbolizes life. It also symbolizes the Word of God, the message you hear when you read the bible, or go to church, or your sacred space.
Here we have two containers of liquid. This container says "hears only". Within it, the liquid represents a person's soul. This container says "hears and does". Now what we are going to do, we are going to pour the Word of God inside "hears only". [pours green liquid into glass and stirs] Right here we can see that both persons are the same, nothing about two persons sitting in the pew going to church being happy. [now pours green liquid into other glass] That's the Word of God there – that's the Word of God here. [stirs]
Now let's see if both are growing and changing. [holds glass up] Hmm – something is not right, let's do something else. "Hears only" will go to church two more Sundays, read the bible two more times per week. Hmm – "hears and does" goes to church two more Sundays, read the bible two more times. [stirs] Isn't this quite interesting. Now they should be the same, let's examine. Are they the same? [holds up both glasses] "Hears only" goes to church a few more times, reads the bible a few more times. Now they are going to church every Sunday, and reading the bible every day. "Hear and does" does the same thing. Now let us see [holds up both glasses "hear and does" is turning green]
Now let us see – from the illustration, do you see what's happening? The person who "hears only" has not changed. The person who "hears and does" changes. This is so with the Word of God. You cannot listen to the word only, you have to listen, hear and do what it says. Then you will be able to flourish and become what the word says you can become.
James concluded this passage by saying something very important. "If any think they are religious and do not bridle their tongue, but deceive their hearts. Their religion is worthless. Religion that is pure and undefiled before God is this: to care for the orphans and widows in their distress and keep oneself unstained by the world. As people of God, we are counselled to watch our words control our tongue. If a person claims to be religious, to be spiritual, and does not mind their word then think of these two containers. If that person is authentic in their application of the word, then changes will happen. If they are just religious, no change happens. Their religion is not pure.
Another point I want to close with is when the passage mentions orphans and widows, they represent the most vulnerable in our society who have no way of protecting themselves or to take care of themselves. For if our faith if our religion, if our spirituality is to be in keeping with the word that we read and study, then we will go out and we will do what is needed to help the oppressed, to help the vulnerable and to keep ourselves undefiled and uncorrupted by the world.
Amen
---
Announcements
This week's events and announcements
.
.
.
.
.
.
.
.
.
.
.
.
.
.
.
.
.
.
.
.
.
.
.
.
.
.
.