---
---
Sermons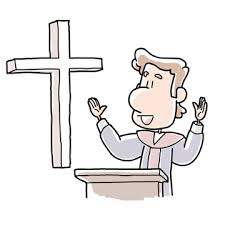 Click on the following sections to find out more information.
Quarterly Message
The quarterly message is found at the beginning of the newsletter.
Sermon
September 15, 2019
September 8, 2019
September 1, 2019
---
September 15, 2019


By Barry Sale
based on Luke 8:22-25 - The Storms of Life
The last time I was up here leading a service, I talked about faith – what faith is and what is needed for faith to be a significant part of our lives. Today's Bible reading, even though it's quite brief, deals once again with the subject of faith.
It's the well-known passage about Jesus calming a storm. You all know how it goes. Jesus is hanging out with several of his disciples on the shores of the Sea of Galilee. He decides to go to the other side of the lake, a long distance to walk, so he suggests that they go across in a fishing boat.
Now, the Sea of Galilee is not a huge body of water, just five miles wide and about thirteen miles long, but it is known for its sudden and violent storms. It's 600 feet below sea level, and the sun constantly heats the water. However, the lake is surrounded by mountains, and cold air often comes rushing down to collide with the warm air above the surface of the water, producing some nasty local storm cells.
So, Jesus and some of his disciples set out on a sail across the lake. Jesus had been putting in long days and he was exhausted. As soon as they set off, he curled up and fell asleep. Then, the storm hit. It was a vicious one, with high winds and big waves, causing the water to flow into the boat. We can just imagine the men trying to bail the water out, their eyes wide open with fear. And still, Jesus slept. When it seemed that the craft was in mortal peril of sinking, they decided to wake Jesus up, crying "Master, Master! We are about to die!"
Jesus got up, and commanded the wind and the waves to cease, which they immediately did. The lake became totally calm. Then Jesus said to his disciples "Where is your faith?" Once again, He amazed them, this time with his power over the natural elements.
I can really identify with this Bible passage. I vividly remember one summer, more than 40 years ago BK (before kids), when Vicky and I and another couple went camping out at Charlotte Lake, it's a fairly big one in the West Chilcotin, about four miles wide and eight miles long (almost as big as the Sea of Galilee), and it gives rise to the Atnarko River.
We got there, set up camp, and the next morning it was a beautiful day. We decided to go out fishing, and to head down to the end of the lake where there were several small islands sheltering some big pools which supposedly contained some very large trout. Vicky and I were in a 12 foot aluminum boat with a 3½ horsepower motor. Our friends were in a 16 foot canoe and were paddling. The lake was dead flat calm when we set out, and we trolled slowly down to the end of the lake, about an hour's journey.
We did get into some great fishing around the islands, and at about 2 PM we decided to head back. When we got out of the protection of the islands we were surprised to see that the lake had blown up. There were whitecaps and waves up to three feet high. It was downright scary. Our friends couldn't keep up, paddling into the wind, so they tied onto our boat and we tried to tow them back.
What a ride! I had the little motor at full throttle, and we'd go up on the crest of a wave and the rope would to slack. Then we'd surf down the back side of the wave and the rope would snap tight, slingshotting the canoe alongside. Then the whole process would repeat.
Meanwhile, all four of us were bailing like mad. It was the most terrified I have ever been on the water. It took us more than three hours to get back to our campsite, drenched and exhausted. I must admit that I would have loved to have Jesus in the boat to command that storm to stop!
The Bible reading about Jesus calming the storm is more than just a simple account of His power over the wind and the waves It is also a metaphor for our lives. We all face storms, both literally and figuratively. Perhaps you remember the movie 'Forrest Gump'. There is a famous line from that movie: "Life is like a box of chocolates… you never know what you're going to get." All of us know that there is a basic truth to that statement. Life is anything but predictable. Circumstances change in the blink of an eye, and your world can be completely altered. Life is not always pleasant and certainly not always what you plan or expect it to be. We never know what sort of storm will blow into our lives.
It could be an unexpected shower like a remark that hurts our feelings. It could be a brutal category five hurricane like the unexpected loss of a loved one. Or it could be anything in between. Someone once, rather pessimistically stated that, in life, people fit into three categories: those facing a problem, those dealing with a problem, and those just finishing up with a problem. When you think about it, it's true.
So, let's try to glean some meaning from this Bible passage to help us deal with the storms of life. I want to suggest three things we can take from this reading. Firstly every human being experiences storms, even Christians who have Jesus in their boat with them. Just as the disciples were not protected from being hammered by the storm, so too are Christians not exempted from the problems of life. However, being a Christian does provide you with a hope and a faith to get you through the storm, and also a perspective to realize that storms are a normal part of life and that they do not last.
The second thing we can pick up from this story is that the storms of life come along unexpectedly. You can't plan for them. Life can be going along very nicely, and then all of a sudden, the bomb drops. A routine medical exam reveals a tumour. A phone call in the middle of the night informs you that a loved one is gone. A fire breaks out, causing major damage to your home. You just can't believe that it is happening to you. For many, when these storms of life happen the first reaction is fear and panic. We automatically think the worst, and tend to become harbingers of our own doom. Then, like the disciples in the boat, in our terror, we turn to God.
The third thing is that we are not alone during these storms. We all have friends and relatives who will do everything they can to help us through the crisis, no matter how serious or difficult it is. We are also fortunate as Christians, because we believe in the presence of God, through the Holy Spirit, in our lives. Even so, there are times during our storms when we feel like God has abandoned us, times when we just don't feel His presence.
During those times, we must rely on faith, faith that God is always with us. In the city of Cologne in Germany, there is a house where a Jewish family hid in the cellar for more than two years during World War II. Even though they were eventually discovered and sent to the death camps, they kept their faith in God. After the war, these words were found inscribed on the cellar wall: "I believe in the sun, even when it is not shining. I believe in love, even when I am not feeling it. I believe in God, even when He is silent."
And that's the thing. God may not calm the storms in our lives, but he can calm you. God may not always bring peace to your storms, but he can bring peace to your spirit. You may not always feel God's presence, but he is always there. Sometimes in the form of friends and family, sometimes in the form of near strangers, God is present in your life. You can be confident that you do not have to face the storm alone.
I'll wind this reflection up with another story. A family was awakened by their smoke detector in the middle of the night to discover that their house was on fire. The father ran upstairs to grab his children from their bedroom. He carried his 18 month old baby in one arm and half dragged his four year old son behind him with the other. They were halfway down the stairs when the boy realized that he'd left his teddy bear behind. He broke free and ran back up to the bedroom to get it. In all the noise and confusion, the father didn't realize that his son wasn't right behind him until he got outside.
By now, the little boy was trapped by the flames and the heat in the bedroom. Smoke swirled around him as he coughed and cried out from the upstairs window "Daddy, Daddy! Help me!" His father yelled up at him "Jump out of the window, Freddie! I'll catch you!" In the darkness and the smoke, the little boy yelled "But Daddy, I can't see you!" The father shouted back "That's okay son, I can see you. Just jump!" Real life is much like that, isn't it. In our storms we may not be able to see God, but we just have to have faith that He is there.
So, it's back to faith again – that's really what the lesson today is all about. Jesus asked his disciples one simple question: "Where is your faith?" Where is your faith? It's a pretty basic question that we need to consider as we face the storm of our own lives.
Do you have faith that you have the strength to face these storms? Do you have faith that you're not alone when the storms hit? Do you have faith that there is a greater power comforting, affirming, and uplifting you during the storms? Do you have faith that God is with you in your life?
All of us will face storms as we move through our lives. We will all face difficulties, Both great and small. May your faith see you safely through the storms in your life.
Amen
---
Announcements
This week's events and announcements
---
September 8, 2019


By Rev. Juanita Austin
based on Psalm 139 and Jeremiah 18: 1- 10 - We're All a Bit Broken
What contrast we have in the scriptures today. I have always loved Psalm 139. It is a prayer of deep awareness, a prayer that acknowledges the totality of God surrounding us, infusing us with Spirit beyond time and space. God you have searched me, you know my heart… This is a psalm of openness to the Holy One looking deep within us. Being so sure of God's unconditional love, the psalmist can even invite God to search their heart and mind, show where they have strayed, and draw them back to a holy path.
On the other hand, the reluctant prophet Jeremiah finds himself in a society that has no intention of looking deeply at itself. The community dismisses Jeremiah as a nut-case. And why wouldn't they? He never has anything positive to say. They're doing all right for themselves. The economy is strong – at least for the strong in the economy; and all is well.
But Jeremiah sees signs everywhere, that things are not well – even at the potter's house. As he walks by and sees the potter at work, building up a bowl and then mashing it back down, starting over when he sees the pot is off balance, Jeremiah thinks – that's like God. God has fashioned us for a higher purpose and we're not living up to it; we're off balance.
Jeremiah knows in his heart that the political alliances the leadership of Jerusalem is making will not be its salvation. They need to reconnect with their holy purpose, they have to be open to being reshaped into something that has inner beauty and depth; something that is connected again to the God they profess to love.
Jeremiah's story of the potter working the clay can cause some distress – being broken down, but it can also give hope for new beginnings, being reworked into something beautiful and lasting.
When I was ordained in 1987, I was given a beautiful pottery chalice (cup), as a gift from Alberta North West Conference. Although I tried to pack it carefully in my suitcase, it unfortunately didn't fair too well. When I got it home, I saw that the base had broken. I glued it back together. Good as new – well almost. But I didn't trust it to stand firm on a communion table and wherever I went, the church already had the cup they wanted. My lovely chalice, given to remind me that I was ordained, to Word, Sacrament and Pastoral Care, found a new place on my dresser. It became a fine container for special rocks, collected from special places, and the rim was the perfect place to hang shepherd hook earrings.
About 10 years ago, someone bumped the chalice, sending it smashing to the wooden floor – too broken now even to hold shepherd hook earrings and polished rocks.
When I told my children about the broken chalice, they each, independently of the other, and from opposite ends of the country, asked for a piece of it. It was important to them. It was a part of our shared history. They had been at my ordination – Miriam at 3 years old and Aaron at 6 years old, and they wanted to hold on to a piece of that. I asked Miriam if she could tell me a bit more about why the broken chalice was important to her. This is what she said:
"It was a part of us growing up. When I would go into your room and look at your treasures on your dresser, that chalice was always there. I knew it represented your spirituality, and it was always full of treasures. And when our house was robbed (twice) it didn't disappear! I can hold on to a piece of it and remember, it's a part of my youth and my growing up, even when we moved around a lot, and had so many changes in our life, it's what was always there."
When I cleared it with Miriam to share her story, she reached over and picked up a small cardboard jewelry box and placed it in my hand. I opened it and there was her piece of the chalice.
There can be frustration and sorrow when we've spent our time and energy doing stuff that doesn't fulfill us, doesn't sustain our spirit, when our hopes and plans crumble, when our life is other than what we believe God made us for. Yet, whoever we are, wherever we are, whatever we do, we can still be a blessing in different and unexpected ways.
That broken chalice didn't have to sit on a communion table, in order for it to be recognized as sacred. That broken and mended earthen vessel always held treasure.
And isn't it so, with us? Wounded healers, cracked pots, broken and beautiful… never the perfect mother, or lover, child, or husband, never the perfect congregation – always some flaw in our nature, wounded in body, mind, or spirit; always some kind of death before resurrection, but still capable of holding and being a treasure.
You know, despite the base being broken, the vessel – the part of the chalice that holds the treasure, is whole. It just can't stand on its own. It needs a little support – just like we do, from time to time. We need to support and hold each other up in community – knowing none of us is perfect, but praying that God will work with our imperfection, like the potter works with the clay. (At this point, I set the broken base in a clear glass jar, which held it perfectly – this is what we used for communion later in the service.)
May God, Infinite and Intimate, shape us into vessels of healing, compassion and light in our broken world.
There is a powerful song that speaks eloquently of our flawed and broken lives, but how we still present them to God who redeems everything – nothing is wasted. The last verse says, "And even though it all went wrong, I'll stand before the Lord of song, with nothing on my tongue but Hallelujah."
I first heard Leonard Cohen's Hallelujah on a cassette tape, in a car, on the streets of Vancouver about 15 years ago. It's a good thing, I wasn't driving the first time I heard it; my friend Lynne was, and she knew that my life was `kind of in the toilet' at that time. "I think you need to hear this", she said. I'm so glad I did, though of course it reduced me to tears. Cohen's Hallelujah is a prayer of confession, but it's also a story of redemption and healing, and despite our brokenness, it's a story of wholeness – for we belong to God who has known us and loved us from before we were born.
Leonard Cohen's "Hallelujah"… Please join in on the chorus.
Amen
---
Announcements
This week's events and announcements
---
September 1, 2019
By Rev. Cari Copeman-Haynes
Via Together We Worship – When the People Lack Life?
Where is the Holy One? The question Jeremiah says the people of Israel's ancestors neglected to ask. The question Jeremiah says even the priests who handled the holy mysteries set aside. And the consequences for dropping that question? The people have forsaken the fountain of living water, and dug out cracked cisterns for themselves that hold no water. That, of course, is a metaphor. Prophets are always poets. But the meaning is clear: the people are lacking life. They're disconnected from the source of life, and they themselves are not sustaining life. They're not vital.
I'm interested in the connection between these two things in the life of the community of God's people. The question "Where is the Holy One?" and the ability to sustain life and vitality. It is telling that the question "Where is the Holy One?" is connected in the text with the foundational experience of the Israelite people. Their exodus from Egypt – yes the moment of salvation. But also their perilous journey through the wilderness. The question "Where is the Holy One?" doesn't generate out of a peaceful existence in which nothing ever much changes and there are no challenges to face or adversity to overcome. The question "Where is the Holy One?" rises right out of the struggles of life. Bitter slavery and oppression in Israel's case: hunger and thirst, conflict within the community about which is the best way. And the struggle to answer the question itself with integrity.
"Where is the Holy One?" When the community is in its settled, established existence, when things are rolling along and life is good and there's enough eat - for us anyway, then it's easy to answer the question with "Huh, God is right here", or even "God is obviously on our side." But what Jeremiah is stirring up in his text is the realization that that answer is insufficient. If that's your answer implies Jeremiah, then you've dropped the question. You've forgotten where you've come from, who brought you to the party in this land flowing with milk and honey and you may be ignoring the question because you don't want to face the fact that there are other possible answers. Such as, "The Holy One is with the ones who are hungry and thirsty." or even "The Holy One is standing with those you oppress with your unjust living." Of course it's hard for the people of the covenant to face the possibility that God might just switch teams.
They have a lot invested in being the chosen people, this royal theology of theirs. But even more scandalous – what if there aren't teams with God? What if God wants the same good for all of creation? So Jeremiah keeps prophesying, throughout his long book. Remember his call last week to pluck up and pull down, to destroy and to overthrow, and to build and to plant. That's two thirds deconstruction and only one third reconstruction. Claiming chosen, claiming royal theology, doesn't give you a 'get out of jail free' card. Show up with God, says Jeremiah. Contend with God's justice and God's grace. Ask the question!
So "Where is the Holy One?" is shorthand itself. Asking "Where is the Holy One?" means that the people are ready to be engaged with the living presence and with each other. It means they don't think they have it all figured out. But they're also very aware of the risks, and the challenges of life. And they know they're rooted in a story that is so much bigger than them. And in a relationship with a being who is both bigger but also present with them to guide. Being willing to ask the question is just the first step, really. It means becoming a little humble, a little vulnerable, willing to risk. It's the question that comes when life is not all tidy and gift wrapped. Certainly not a question that tends to result in neat corners and smooth edges, but it is the most important question to hang on to.
A decade ago, the founding congregations of Crossroads United Church knew that without a vision from God for ministry that was vital in the community of West Surrey and North Delta, our amalgamation would be like lashing together two leaky bathtubs. No doubt, you can think of moments in the life of your own community of faith when turning to this question "Where is the Holy One?" provided the needed point of connection to identity and call.
The consequences of hosting this question are many. We form our community and the practices of theological reflection and discernment. Our young people see us relying on God and turning to each other and we remember in the context of the changing church that it's not all up to us. The fountain of living water continues to flow whether we hold out our hands or not. But let's ask the question. It's what roots us and grounds us in faith and trust. The church is a community born in response to God's grace. Our purpose is to give our life away to those who are coming after, to offer hospitality, treating people as if they belong, before they belong, until they belong. Church is not about institutional survival but about belonging and growth in the spirit and serving the world with the gifts each of us have been given. Knowing that each one of us in our authenticity is beloved and that each of us is called to show up with God and to ask the question together and to use our gifts for ministry.
So folks, turn to your neighbours for a minute or two "Where is the Holy One?" Where is that fountain of living water in the struggle of life? Where is the source of vitality that refuses to be boxed in? Take a moment to share with each other and then we'll call out some sightings
[video ends – part two on second video]  
Thank you for taking some time to share with each other.
I recently had the privilege of listening to Peter Short's final address to the Sowing Promise, Growing Leaders group of 2018 and 2019. He's pointing out to the assembled crowd that the church in North American is finally metabolizing decline to such an extent that for the first time in 1500 years we're able to perceive the gospel unhooked from our captivity in the land of milk and honey – Christendom. It's as if now, undistracted by the trappings of success and comfort we can finally turn to one another with the question "Where is the Holy One?"
Peter shares a hilarious piece by the preacher and teacher of preaching, Fred Craddock, about his childhood of listening to inspiring sermons with illustrations about Gandhi and Mother Teresa and missionaries who've had their feet frozen off, stories of giving one's life away for the gospel on the grand scale. And he tells about his own imagination running away with him at summer camp, about the heroic and praise-worthy ways that he would give his life to God. But then he says "But nobody warned me, at that point, that I wouldn't be required to write one big cheque. It's been 45 years of little cheques: 87 cents, 21 cents, a dollar and three cents, just nibbled away at this giving of life."
Then Peter says "Small is not the problem, it's the way. It's not the size of the vessel, it's the ability to hold the life giving water which flows from God and then pour it out for the sake of the world God loves."
Your community of faith is not called to be a cracked cistern, or a leaky bathtub. You - we - are called to be vessels of the grace of God. God, who is the fountain of life giving water which flows freely for us and for everyone. With grateful hearts, let's keep asking the question together "Where is the Holy One?" and practicing our faith.
Amen.
---
Announcements
This week's events and announcements
.
.
.
.
.
.
.
.
.
.
.
.
.
.
.
.
.
.
.
.
.
.
.
.
.
.
.