---
---
Sermons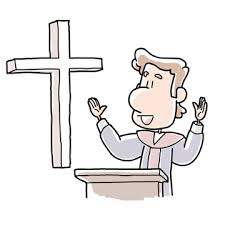 Click on the following sections to find out more information.
Quarterly Message
The quarterly message is found at the beginning of the newsletter.
Sermon
August 18, 2019
August 4, 2019
July 28, 2019
---
August 18, 2019


By Lynn Blatchford
The Bible passages today have some disturbing images in them, that were difficult for me to understand. Therefore I'm using interpretations from other authors to help me with these passages. In the Luke reading, what can Jesus' words of division possibly mean? Did he not teach peace? Audrey West suggests that this passage is descriptive rather than prescriptive. That is, it is not Jesus' purpose to set children against parents, or parents against children, but that this sort of rupture can be the result of the changes engendered by Christ's work. Also in the Luke gospel, there is the story of the prodigal son, where this son and the father were reconciled. However there were seeds of rupture as the renewed relationship between younger son and father, resulted in a division between the father and the elder son.
It is difficult being a Christian today. As David Gray says, defining oneself by one's beliefs and faith can be challenging socially. Friends and relatives may not understand, in fact may even criticize us. There are so many things happening on a Sunday morning besides church services. Society doesn't respect Sundays the way it used to in our parents' or grandparents' generations. We see a lot of discouragement within our churches today. Attendance continues to decline. But today's Christians are not alone. The Hebrew passage is all about that difficulty in ancient times. The members of the early church also struggled with discouragement.
What has helped God's people deal with discouragement since the beginning is the knowledge that we are not alone. We follow in the footsteps of people from the earliest biblical times who were unsure of what the future held for them. We follow in the footsteps of saints who along the way chose to trust God anyway. We follow a God who does not abandon us in times of trouble. When we follow the path of staying focused on Jesus Christ our savior, we are able to see the joy in life despite the suffering.
The purpose of the Hebrew passage was to encourage the Jewish Christian community to stay faithful to God in the face of the challenges of life. The examples of the Old Testament figures and their endurance of torture was to tell the Christians that faith will lead to something joyful in time, even if they could not see it. The same for us today. We are reminded to trust the God who stayed true to our ancestors in faith and will stay true to us. We are to focus on the idea that we must have realistic faith for our future because of what God has done in the past.
So it is not easy being a Christian today. Now I'm going to talk about a Christian of whom I'm sure many of you will have heard. He was born in 1928 and just recently died, May 2019 in fact. Jean Vanier was a Canadian, a Catholic philosopher, theologian and humanitarian. He developed L'Arche, an international federation of communities for people with developmental disabilities and those who assist them. There are now 154 communities in 37 countries and 5 continents. Vanier found that life shared in community by people with and without intellectual disabilities creates a whole new sense of solidarity.
I will quote from Jean Vanier's book "Becoming Human" which was published in 1998. "There is a huge abyss between those who have food, money, and comfort and those who are hungry or have no place of their own. I remember seeing children in Calcutta, their noses glued to the window of a luxurious restaurant. The rich – and that includes me and many of you reading this book – do not like to see dirty beggars staring at them. Haven't we all felt embarrassment and fear in front of those who are hungry?"
He goes on to say, "One day in Paris, I was accosted by a rather dishevelled woman who shouted at me – 'Give me some money!' We started to talk. I learned that she had just come out of a psychiatric hospital. I realized quite quickly that she had immense needs and I became frightened. I had an appointment and I didn't want to be late, so I gave her a little money and went on my way. I was frightened of being swallowed up by her pain and her need.
What is this abyss that separates people? All of us are, more or less, locked up in our cultures, in our habits, even in our friendships and places of belonging. If I become the friend of a beggar, I rock the boat. Friends may feel uncomfortable, even threatened by my new ways; perhaps they feel challenged to do likewise. They may become aggressive, they may criticize the foolish, so-called utopian ways of one in their midst who befriends a beggar." Vanier says he is beginning to discover how fear is a terrible motivating force in all our lives. He says "We are frightened of those who are different. We are frightened of failure and rejection. Fear is at the root of all forms of exclusion, just as trust is at the root of all forms of inclusion."
For Jean Vanier, his experience of exclusion has mainly been with those who have intellectual disabilities. He says "People with intellectual disabilities are generally placed at the lowest end of the human spectrum. When I first encountered them at l"Arche, I believed in love, but for me, love meant generosity, doing good for others. At that time, I did not realize that through our love we can help others to discover their own intrinsic value; we can reveal to them their beauty and their uniqueness.
He goes on to say "Gradually through l'Arche, I began to see the value of the communion of hearts and of a love that empowers, that helps others to stand up, a love that shows itself in humility and in trust. If our society has difficulty in functioning, if we are continually confronted by a world in crisis, full of violence, fear, abuse, I suggest it is because we are not clear about what it means to be human. We have disregarded the heart, seeing it only as a symbol of weakness, instead of as a powerhouse of love that can reorient us from our self-centredness, revealing to us and to others the basic beauty of humanity, empowering us to grow."
"A compassionate heart sees the presence of God in others."
Vanier continues, "I believe that the aspiration for peace, communion, and universal love is greater and deeper in people than the need to win in the competition of life. But for this aspiration to become a real desire that inspires our activities, in order for it to break through our fears and need to win, each one of us has to make a leap into trust: trust in the sacredness of every human heart, trust in the beauty of the universe, trust that in working for peace and unity, we will find a treasure."
Jean Vanier talks about the patients from mental institutions he encountered and the destitute people on the streets of Calcutta and Paris and their suffering. In the Hebrews reading today, we hear about the ancient ones who suffered greatly but still had faith. The faith was not necessarily that their suffering would end but that there would be something greater in the future, a new joy and peace to come. In Luke's gospel reading, Jesus talks about a disruption in the relationships between people. Perhaps this is what Jean Vanier is talking about. He proposes we enter into a new relationship with the outsiders, those people who are different from ourselves and the reward will start us on the path to new joy and peace and "becoming human".
Amen
---
Announcements
This week's events and announcements
---
August 4, 2019
By Barry Sale
What is Faith?
What is faith, really? It's likely that if you ask five different people, you'll probably get five different answers. The dictionary defines faith as "belief without need of certain proof" and "confidence in or dependence upon something as true." Critics claim that faith is simply believing in something that you know in your heart can't be true. Skeptics say that faith means believing in something despite the lack of any real evidence. But really, none of these really provides a good answer to what faith really is.
The writer of the letter to the Hebrews explores the concept of faith in God. He begins "To have faith is to be sure of the things we hope for; to be certain of things we cannot see." He then goes on to provide several examples of faith from ancient biblical times. But so much about our modern world challenges the biblical images of God. In reality, though, every day we depend on acts of faith.
We have faith in our grain manufacturers that our morning cereal is really made from the grain they claim to use, whether it's wheat, corn, rice, or bran. We have faith that our car batteries will provide electricity to the starter to cause the engine to go. We have faith in knowledge in science, in government, in industry, and in humanity. Why shouldn't we have faith in God?
Sir Isaac Newton, the famous mathematician and scientist was a strong believer in God. He had an atheist friend who was adamant that God did not exist. One day, Newton went to a carpentry shop and asked the owner to make a model of the solar system. This model was to be made to scale, intricately painted, and designed to resemble, as closely as possible, the solar system as it was known at the time. After several weeks, Newton picked up the scale model, paid for it, and placed it in the centre of a table in his house.
Some time later, his atheist friend came over for a visit. The model of the solar system immediately caught his eye, and he asked Newton if he could inspect it more closely. As he looked at it, he was impressed with the fine craftsmanship and the beautiful way the pieces all fit together. After a while, the friend asked Newton who had crafted this amazing model.
Newton replied that no one had produced the model – it just appeared on the table by accident. Confused, his friend repeated the question, but Newton continued to maintain that the model had just appeared out of thin air. Finally, the friend became upset, and Newton explained the purpose of his answer. He made the point that if he could not convince his friend that this well-made replica of the solar system had just happened by accident, how could the friend believe that the real solar system, with all its complexity and design could have appeared just by time and chance.
Faith in a maker or a creator is a central theme in any religion. Even with the advances in cosmology, physics and biology available to us today, the notion of a higher power still helps us fill in the gaps and provides us with answers to very difficult questions. At a news conference following his 1998 shuttle flight, astronaut John Glenn said "to look up out at this kind of creation and not believe in God is impossible. It just strengthens my faith."
But faith is more than believing in God, it's also believing God. Not only believing that God exists, but also trusting that God keeps his promises and is in control. This aspect of faith is much more difficult than just believing that there is a God.
Unfortunately, we live in a world of broken promises. We make commitments and don't follow through. World governments make treaties, and then set about trying to work around them. National governments and political parties make promises that are never carried out. Individuals make arrangements that are regularly broken. More than half of all marriages end in divorce. We all make plans and promises that we never intend to keep. But God is steadfast. The Bible records over 7,000 promises from God to his people, and he has kept every single one of them. God never jams out on his word. God never changes his mind or finds someone else. God means what he says and is deserving of our trust.
One Sunday afternoon, Mark Twain and his friend William Howells stepped out of the church doors just as a heavy rainstorm began. Not wanting to get wet, they waited under the cover of the church porch. Howells remarked "I wonder if it will stop." and Mark Twain retorted "Well, it always has before!" He was right.
It's easy, I think, that once the sky has cleared and we see the blue overhead to know that God is in control. The hard part is trusting in God in the midst of life's thunderstorms, when you can't see clear skies ahead.
Have you ever heard about the Chinese bamboo tree? The Chinese plant the seed; they water and fertilize it, but the first year, nothing happens. The second year, they water and fertilize it, and still nothing happens. The third and fourth years they water and fertilize it, and nothing happens. Then the fifth year they water and fertilize it, and sometime during the course of that year, in a period of approximately six weeks, the bamboo shoots up, growing to be up to 90 feet tall.
So the questions is – did the tree grow 90 feet in six weeks, or did it grow 90 feet in five years? I think it's 90 feet in five years, because without the water and fertilizer each year there would have been no growth at all. Without the faith of the people who planted it, it couldn't have happened at all. Like the bamboo tree, there are times in our lives when we seem not to be growing – when God's plan is a mystery to us. But those are precisely the times when we have to believe – to have faith. We may not know what the future holds, but we have to know who holds the future.
The final aspect of faith involves acting on our beliefs. The cheering crowd at Niagara Falls may have intellectually accepted that the tightrope walker could push a man in a wheelbarrow across, but they didn't believe enough to act upon it. The Bible is pretty clear about acting out our faith. Here is what James, the brother of Jesus wrote:
"My brothers and sisters, if people say they have faith but do nothing, then their faith is worth nothing. Can faith like that save them? A brother or sister in Christ might need clothes or food. If you say to that person 'God be with you. I hope you stay warm and get plenty to eat,' but you do not give what the person needs, your words are worth nothing. In the same way, faith that is alone – that includes no action – is dead." (James 2:14-17)
There is a big difference between a spoken faith and faith in action. Simply thinking or speaking words of faith is not enough. Genuine faith must always include action. The Bible is full of examples of this. Most of Jesus' miracles require some sort of action on the part of the faithful in order for God's healing power to manifest itself.
In reality faith without action is useless. The only thing that can snuff out faith is you. Until you exercise your faith, it is just potential. Until you engage your faith, it is not really alive. Our faith will not be judged by what we think or what we say, but by what we do. Paul tells us that faith is God's gift and that God has created us for a life of good deeds. (Ephesians 2:8-10)
So to recap, what is faith? Faith has three components, belief in God, believing God, and putting those beliefs into action. Faith plays a vital relationship in our relationship with God. The more we engage and exercise our faith, the deeper, stronger, and more meaningful it becomes.
The 1989 Armenian earthquake took only four minutes to flatten the nation and kill 30,000 people. Moments after that deadly event ceased, a father raced to an elementary school to find his son. When he arrived, he saw that the building had been levelled. Looking at the mass of stones and rubble, he remembered a promise he had made to the child: "No matter what happens, I'll always be there for you."
Driven by this promise, he located the area closest to his son's classroom and began to pull back the rocks. Other parents arrived, and they began grieving for their children.
"It's too late," they told the man, "you know they are all dead. You can't help." Even a police officer urged the man to give up.
But the father refused. For eight hours, then 16, then 32, for 36 hours he dug without resting. His hands were raw and his energy gone, but he refused to quit. Finally after 38 wrenching hours, he pulled back a boulder and he heard his son's voice.
He called out his boy's name "Arman! Arman!" and a voice answered him "Dad, it's me!" Then the boy added "I told the other kids not to worry. I told them if you were alive, you'd save me, and when you saved me, they'd be saved too, because you promised "No matter what, I'll always be there for you!"
Faith in action. We never know how it will work out for us – we just know that it will. We never know how we can share our faith with others – we just know that we should. We never know what God will ask us to do – we just know that we must do it.
May it be so in your life and in mine.

Amen.
---
Announcements
This week's events and announcements
---
July 28, 2019


By John Christoffersen
based on Psalm 85
This Psalmist is most interested in the aspect of our relationship with God. A time of captivity by another power that hindered a relationship with God has been taken away… God's mercy has lifted off and taken away a weight that pressed down on a nation.
The Psalm thanks God for restoration and then for present and continued revival.
We are also to faithfully pray for revival. Not for the movement of God in the world so that unbelievers come to God, but for revival in the church. For revivals do not start in the world but in the church.
So pray for members of our congregation. Pray that they may be strengthened against temptation and discouragement. Pray that they be filled with faith, that they receive blessings, and that through the Holy Spirit they find ways to show the goodness that is inside of them.
Pray with confidence, boldness, and humility, knowing that salvation is God's work. And as we turn to God and enjoy the nearness of his salvation we will again meet the four attributes of mercy, truth, righteousness, and peace that were separated from humankind at the fall of Adam and Eve and were reconciled to us when Jesus poured out his life on the cross. This is the pathway, the path of mercy, truth, righteousness, and peace, that God builds before us.
Amen
---
July 28, 2019
By John Christoffersen
based on Luke 11: 1-10
To read Luke is to read about the importance of prayer in Jesus' life and ministry.
Luke 11 begins with Jesus praying.
When he has finished praying, one of his disciples asks, "LORD, TEACH US TO PRAY…"
Jesus invites his disciples into a personal relationship with God, encouraging them to call upon God using the same name he uses… Father. He invites his disciples to call upon God as children call upon a loving parent, trusting that they belong to God and that God wants for them what is good and life giving.
Jesus also invites his disciples to pray and act in such a way that holds God's name in a place of honor, for when God's kingdom comes there is daily bread for all, forgiveness is practised, and the faithful are delivered from the time of trial.
To illustrate that God can be trusted to respond to our prayers, Jesus tells the parable of the friend who calls at midnight. If friends respond to the needs of each other, so will a God who wants to give us what is good and life giving.
Jesus continues. "ASK, AND IT WILL BE GIVEN TO YOU; SEARCH, AND YOU WILL FIND; KNOCK, AND THE DOOR WILL BE OPENED FOR YOU."
But have we all not had the experience of asking and not receiving, of having searched and not found? In spite of our most fervent prayers we have lost loved ones to cancer and senseless accidents.
In spite of prayers of people around the world, we hear daily of tragedies of violence, hunger, and disease.
Has God answered these prayers by saying, "No."?
This explanation cannot account for the cases in which our requests are in tune with God's will as stated in Scripture and spoken in The Lord's Prayer.
Does unanswered prayer mean that God has a purpose in everything that happens? That no matter how bad it may seem, it is all part of a divine plan, unknown to us, that will eventually lead to a greater good.
I would have great difficulty in telling a grieving person that all kinds of evil… torture, violence, starvation, premature death… are the will of God.
Of course we believe that God can bring good out of evil. But that is very different from saying that when an evil thing happens it is God's will.
Yes, God is powerful and God always hears us, but God is not the only power in the world. There are other powers at work: the powers of evil and death. Although God has won the ultimate victory over these powers through the death and resurrection of Jesus, the battle continues. Therefore, God's will can be thwarted.
Remember what Jesus says in this passage. Keep praying, because God wants to give us life and is working for redemption in all of creation. God works for good for those who are called to his purposes.
So keep praying… keep knocking on that door of peace and healing. We may not or even never see the fullness of God's peace come to earth, or even to those for whom we pray. But we will get glimpses, even signs, of a miracle or two. And that can be enough to continue to give our lives purpose as well as a quiet strength. For the meek - those of quiet, patient strength - shall inherit the earth.
Amen
---
July 28, 2019
By John Christoffersen
based on Colossians 2:6-15
This passage contains unique images, metaphors, words, and concepts that are rare in the New Testament or even spoken of from this pulpit. (Unless you were present on July 7 when Ros Giles told her squirrel story).
This author begins with the positive. Namely, that we already have a relationship with God because of what God has done for us through Jesus Christ.
This is followed by a negative. We are warned about the false teachings of some who claim that in order to be in full relationship with God one needs to have mystical visions and ecstatic experiences. Having had visionary experiences does not place one on a higher spiritual plane or closer to God. Instead, these judgements can lead to an arrogance that can turn a mind away from Christ.
Our focus is to dwell in Christ… to be rooted in Christ... to live as Christ would have us live because we have been buried and then resurrected in the waters of baptism.
As every gardener knows, plants depend on their roots for nurturing and sustenance. The roots may be underground, invisible to the casual observer, but they are essential to the well-being of the plant.
Also, much depends on the soil in which the plants are rooted. Moisture and nutrients allow the plant to prosper. The opposite conditions leave the roots helpless – unable to support the life of the plant – and the plant dies.
To be rooted in Christ is to be rooted in infinite spiritual resources. In good times and bad, we can depend on our roots to bring us life-giving support.
Furthermore, when rooted in Christ, we can add an architectural image to this agricultural metaphor, for Christ builds us. The Christians reading this passage could be assured of living in a house with a sturdy foundation, strong walls, and a solid roof. The big, bad wolf can huff and puff all day, but we have no need to fear. Christ has not only designed us to survive times both good and bad, but also taught us how to be prepared for life's adversities.
We can no longer avoid the 'c' word. Verse 11 says that "IN HIM YOU WERE ALSO CIRCUMCISED WITH A CIRCUMCISION NOT PERFORMED BY HUMAN HANDS."
The author uses the imagery of circumcision and the rite of baptism to describe our former and current realities. But this is a spiritual rather than a physical circumcision. This is a circumcision of the heart as it relates to our baptism, where we are resurrected with Christ. And in baptism all those concerns that stifle our hearts and threaten to undo us are stripped away.
Circumcision, whether physical or spiritual, connects us to Christ and marks us as people of God. The means for our resurrection is through Christ, just as Christ's resurrection was through God. Thus it is divine activity that determines and shapes our lives. Baptism restores us to the image of God that was defaced when we sinned.
Amen
---
Announcements
This week's events and announcements
.
.
.
.
.
.
.
.
.
.
.
.
.
.
.
.
.
.
.
.
.
.
.
.
.
.
.