---
---
Sermons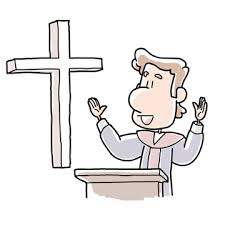 Click on the following sections to find out more information.
Quarterly Message
The quarterly message is found at the beginning of the newsletter.
Sermon
May 19, 2019
May 12, 2019
April 28, 2019
---
May 19, 2019


By John Christoffersen
Psalm 148(Excerpts from a sermon prepared by Pastor Gregg Bitter)
Hallelujah means "praise the Lord". They are the first and last words of this Psalm. As the book of Psalms comes to a close, we are encouraged to shout "Hallelujah" and praise the Lord… the eternal, unchanging one who chose to make the promises that lead to our salvation.
The Psalm calls on everything and everyone to praise the Lord. It starts in the heavens calling on not only the angels but also the sun, moon, and stars to praise the Lord. Then it moves from the heavens to call forth praise from the earth. First the inanimate: ocean depths, lightning, hail, snow, and winds. Then to fruit trees, wild animals, crawling creatures and birds. And finally to us humans, from the most powerful to the youngest and the least. Let all praise the Lord.
But this Psalm does more than urge us to shout "Hallelujah!" It also reminds us of the reason why we praise God and what we praise God for.
For we praise God not only by what we confess but by the way we live. We can learn from Nature here. How do the sun, moon, and stars shout "Hallelujah!"? By following the paths God has set out for them.
Hear the words of Jesus. "Your will be done on earth as it is in heaven."
Amen

By John Christoffersen
Revelation 21:1-6 (Based on the writing of Wes Howard-Brook)
It sometimes seems that Revelation has been embraced by the end of the world believers, who read John's vision as part of the Bible's detailed plan for the final days of life on Earth.
Sadly, this way of reading Revelation does not acknowledge the words that John wrote late in the first century… simple and profound words that call us to worship God alone in order to become the people God calls us to be.
Today the word apocalyptic usually refers to some sort of violent cataclysm, from war to earthquakes. But the literal meaning, the one intended by the Biblical writers, is to lift the veil. God is revealing something otherwise hidden from view… the veil has blinded us from seeing the truth… from seeing a world that the Bible calls Heaven, the world where God lives and reigns.
The Bible contains only one book on the apocalypse, although in the first century apocalyptic writing was much more common among Jews and Christians.
John's apocalypse was different as it was written not by an elder or apostle but by an ordinary disciple, sharing with his peers the struggle to be a faithful Christian while living within the Roman Empire. Revelation is not about the future, but about being a disciple in the present… at all times and in all places.
These last chapters of Revelation illustrate a picture of life as God intends us to live. Instead of a fantasy for the future, it is a life of church found on the other side of the veil… a life of great abundance in a precious creation. To live is to remove our blinders and see life as it really is here and now. It means not only celebrating God in worship, but living as God's people in God's place; a place of justice, a place of abundance, a place where gates are open, a place where light always shines.
Revelation is not words of doom and gloom, but a call to live now in God's world.
Amen

By John Christoffersen
John 13:31-35 "I Will Follow Him"
Hallelujah means "praise the Lord". They are the first and last words of this Psalm. As the book of Psalms comes to a close, we are encouraged to shout "Hallelujah" and praise the Lord… the eternal, unchanging one who chose to make the promises that lead to our salvation.
The Gospel of John can be summed up by some key words: a gospel of life, a gospel of light, of believing, of knowing, of sending and being sent… a gospel of glory and of love. Throughout John, these key words draw meaning from each other and from their connections to the words and works of Christ. These words describe life and a way of life.
The new commandment in this text – to love one another – is a well-known statement from the Bible.
It is part of the human condition to love and to want to be loved.
If that is all we accomplish in our lives, to love and be loved, it is enough. Because for Jesus, love was not a sweet, sentimental feeling. It meant action: justice, equality, peace. It is putting one's love into real world activities.
Remember that this new commandment comes as part of a farewell address by Jesus to his followers. Judas has left the other disciples at the last supper to betray Jesus. We know what is coming. Jesus' response is to talk about the glorification that will be realized in his death on the cross and his resurrection.
Yet with a sense of tenderness, Jesus commands his disciples to love one another. That they will demonstrate their discipleship and be known by doing what he commands. Also, that they will continue to feel his presence despite the fact that he will not be with them.
We have the same calling. Not to show the sign of Paul in being examples of "…all have sinned and fallen short of the glory of God" (Romans 3:23) but to focus on promise and possibilities… to look at the fullness of God's gifts. As was true for Christ is true for us. We show the glory as we complete the work God has sent us to do. For all works that show God's glory are at their core works of love and constitute the essence of who we are.
God will always call on us to love, and Jesus showed us that love is strong, enduring, and faithful. In John this promise is made with richness… "Those who love me will keep my word, and my Father will love them, and we will come to them and make our home with them." (14:23)
Amen
---
Announcements
This week's events and announcements
---
May 12, 2019


By Barry Sale
Happy Mother's Day
It's Mothers' Day. I thought that I would spend a few minutes paying tribute to mothers.
Mothers are teachers. Mothers are disciplinarians. Mothers are cleaning ladies. Some mothers are gardeners and landscapers. And most mothers understand that baking cookies is more important than washing windows. Mothers are nurses and doctors and psychologists and counselors and chauffeurs and coaches. Mothers are developers of personalities, molders of vocabularies, and shapers of attitudes. Mothers are soft voices saying, "I love you." And mothers are living testaments to patience, nurturing, and compassion. Mothers are all of these things and much, much more.
I've already quoted Erma Bombeck this morning, but here's another excerpt from her writings.
For the first four or five years after I had children, I considered motherhood a temporary condition – not a calling. It was a time of my life set aside for exhaustion and long hours. It would pass. Then one afternoon, with three kids in tow, I came out of a supermarket pushing a cart (with four wheels that went in opposite directions) when my toddler son got away from me. Just outside the door, he ran toward a machine holding bubble gum in a glass dome. In a voice that shattered glass he shouted, "Gimme! Gimme!" I told him I would give him what for if he didn't stop shouting and get in the car. As I physically tried to pry his body from around the bubble gum machine, he pulled the entire thing over. Glass and balls of bubble gum went all over the parking lot. We had now attracted a sizable crowd. I told him he would never see a cartoon as long as he lived, and if he didn't control his temper, he was going to be making license plates for the state. He tried to stifle his sobs as he looked around at the staring crowd. Then he did something that I was to remember for the rest of my life. In his helpless quest for comfort, he turned to the only one he trusted his emotions with – me. He threw his arms around my knees and held on for dear life. I had humiliated him, chastised him, and berated him, but I was still all he had. That single incident defined my role. I was a major force in this child's life. Sometimes we forget how important stability is to a child. I've always told mine, "the easiest part of being a mother is giving birth… the hardest part is showing up for it each day."

Mothers' day is traditionally the day when children give something back to their mothers for all the spit they produce to wash dirty faces, all the old gum they held in the hands, all the noses they wiped, and all the bloody knees they "made well" with a kiss. This is the day mothers are rewarded for washing all those sheets in the middle of the night, driving kids to school when they missed the bus, and enduring all the football games in the rain. It's appreciation day for making your children finish something they said they couldn't do, not believing them when they said, "I hate you," and sharing their good times and their bad times. Their cards probably won't reflect it, but what they are trying to say is, "Thank you for showing up."
The other day, I received a copy of a "Super Quiz" for Mothers' Day which was published in the newspaper. See how many of these you can get, based on what your mother said. They're called "Momisms".
Be careful or you'll put your ______ out.
Close that door! Were you born in a ______?
Just wait until your ______ gets home!
Because I'm your ______. That's why!
You'd lose your ______ if it wasn't screwed on.
This is why we can't have ______ things.
Get that thing out of your ______!
I'll give you something to ______ about!
What's ______ with you?
Mothers are remarkable. They know things. They see things. They seem to be able to tune in to what we are thinking. I suppose it's always been that way. They have their own unique brand of wisdom. How many of us have heard the following gems?
Before we were going out somewhere: "Make sure you have clean underwear on." "Why?" "In case you get into an accident."
"Don't sit too close to the television." "Why?" "Because it's bad for your eyes."
At supper time "Finish what's on your plate." "Why?" "Because there are starving people in Korea (or India, or Africa, or any foreign country) who'd love to be able to eat that."
"Mom, can I go over to Jonny's house?" "Ask your father."
It's amazing. Mothers seem to share the same power all over the country, and probably world wide. I suspect it has always been this way. I can imagine the following Biblical exchanges:
Samson's mother saying "Get your hand out of that lion's mouth. You don't know where it's been."
David's mother saying "I told you not to play in the house with that sling! Go practice your harp. We pay good money for those lessons!"
Shadrach, Meshach and Abednego's mother saying "Leave those clothes outside, you smell like a dirty ol' furnace!"
Noah's mother saying "No, you can't keep them! I told you, don't bring home any more strays!"
Judas' mother saying "Have you been in my purse again?"
Yes, mothers are unique. We all know that, and we feel it deep down. It's all about love – that deep, unreserved, no strings attached love that our mothers have for us. In this morning's homily, we heard God saying as He was creating a mother, "I am close to creating something very much like myself." I suppose that is why today is very special – because we recognize that a mother's love is probably the closest example we have to God's love. It is a love that goes through the valley of the shadow of death to bring life into being. It is a love that sacrifices itself over and over again and would even dare to lay down its life for its own offspring or for some other needy child. That's why mothers have a special place in our world. They have that unique position in life to literally influence thousands and change the world by their love.
So, today we recognize and celebrate mothers. In our modern day and age, we often celebrate this occasion by giving flowers to our mothers. Now you all know my interest in history. So I had a question "Why do we do this? Why do we give flowers for Mothers' Day?" That led me to do some looking into the subject, and so here is my Mothers' Day verbal floral bouquet.
Mothers' Day in the United States was officially founded by Anna Jarvis. Her mother always said there should be a day to honour women, a celebration of their contributions in the world. Anna Jarvis never forgot her mother's words… and when her mother died in 1905, she decided to fulfill them. She began by organizing a celebration at a Methodist Church in West Virginia. Pink carnations were a part of the celebrations because they were her mother's favourite flower. To Anna, carnations were a pure symbol of a mother's undying love.
Today, flowers are just a part of Mothers' Day. Florists have been working overtime and shops are filled with beautiful bouquets. Mothers' Day accounts for a quarter of all flower purchases throughout the year. According to some of the statistics I found, in North America in 2017, it is estimated 69% of those celebrating Mothers' Day bought flowers, spending nearly 2.6 billion dollars!!! 72% of all Mothers' Day gifts were fresh flowers or plants!
This morning, along with giving our women a carnation, we could give them a huge, special Mothers' Day Bouquet with an array of fresh flowers! What might it look like?
We start with carnations - carnations are the Mothers' Day flower. The word carnation comes either from the Greek or the Latin, both offer us meaningful roots. In Greek, the word is "corone", a flower garland, from which we get Coronation because the flower garlands were used in ceremonial crowns.
The word carnation is derived from the Latin word "carnis" which means flesh, referring to the flower's light pink colour, which matches a light skin coloured hue. It is from the Latin Carnis, that we get the word incarnation, God made flesh. Legend tells us that the carnation first appeared on earth because of the Virgin Mary's tears when her son was dying upon the cross. So the carnation, from incarnation is a powerful symbol of a Mother's undying love. The carnation is a beautifully perfect flower to celebrate women, a fitting foundation for our Mothers' Day Bouquet!
Another popular flower in Mothers' Day Bouquets is the Rose. Roses have a language all their own, telling stories and secrets through their varying colours. But roses have long symbolized confidentiality. There's a Latin phrase, "sub rosa," which literally means, "Under the rose" - something that is told in secret. In Rome, a wild rose was placed on the door to a room where confidential matters were being discussed. I love this image for Mothers' Day because mothers see the best in their children. In a world that often seems harsh, cold and unforgiving. Mothers hold our secrets, our imperfections, our mistakes and they see the people we are inside. Sometimes they see the people we could be!
So, we need Roses in our Mothers' Day Bouquet. We need women who believe in us and see all we can be, holding in confidence our imperfections.
With that we also celebrate women who will stand up for us, fight for us. Gladiolas symbolize strength and moral integrity. Their name comes from the Latin "gladius" which means Sword, named for the shape of their leaves. To give someone a bouquet of gladiolas, means that person pierces our hearts. Mothers are protectors. We talk about being the Mama Bear, because mothers protect their cubs.
Gladiolas remind us of a woman's strength and her fierce desire to protect the people around them.
We also need Hydrangea in our bouquet! Hydrangea are big beautiful blooms that capture attention. Their name comes from the Greet "hydro" which means water and "angos" which means jar or vessel. Literally, the name means, Water Barrel, and it refers to the hydrangea's need for plenty of water. Women are water bearers. They carry the load. They teach their children, and mothers especially make their homes a teaching place. The Hydrangea reminds us of that important job – to teach about life.
The Sunflower reminds us of this same thing. A sunflower will literally follow the sun throughout the day, constantly facing the warmth and light. During the night, it will go back in order to greet the sun at it's rising. Mothers show us how to make the most of our daylight hours, how to make efficient use of our time, and how to balance the tasks to be done during our days. So we need to add sunflowers to our bouquet.
We need some Peonies. The Peony is another impressive flower. Peonies are gorgeous, but sometimes, their thin stems are not strong enough to hold them up. Even so, they don't seem to break, they simply bend and bloom a little closer to the ground! Peonies are flexible. I think women are notorious for being flexible.
Mothers are flexible, working with their families. Children don't come with instruction booklets, so mothers bend and go with the flow, always beautiful.
The Iris is another beautiful spring flower we need in our bouquet. The three upright petals are said to stand for Faith, Valour and Wisdom.
The Iris also became tied to the French monarchy during the Middle Ages. It is now the National Flower of France. It's also the image of the Fleur de lis, a Christian symbol for the Trinity. The Iris reminds us of a woman's faith! Faith, Valour and Wisdom – the beauty of our bouquet!
Similarly, the Orchid is revered for is luxurious beauty. It's a symbol of love and strength. The Orchid represents rare beauty: delicate, exotic and graceful. These are perfect words to describe our mothers! Rare and beautiful in their own ways.
Heather is another flower we want in our Mothers' Day Bouquet. It's scientific name is "Calluna Vulgaris"… from the Greek "Kallune" which means to clean or brush. And, from the Latin "vulgaris" which means common. Heather twigs were once used to make brooms, baskets, ropes, bedding and thatch for roofs. There's a real commonality to the Heather flower. Sometimes, we hear the phrase "stay at home mom" as a common thing, something of no consequence. Sometimes, being a mother feels so common, so ordinary filled with cleaning and housework. Heather reminds us of Martha in the Bible, who cooked and cleaned and cared for her family. Yes, mothers do a lot of common work – it's never ending. With children, cleaning is sometimes like trying to staple jelly to the wall. It's part of life, but remember the beauty of heather – motherhood is a blessing.
Lastly, we need a Chrysanthemum in our Mothers' Day Bouquet. In Japan, the unfolding of the Chrysanthemum's petals are said to represent Pure Perfection. Remember holding your own newborn baby. Remember your own mother, holding you at your birth. No matter what is real, all our mothers see is perfection.
So, we thank God for the women in our lives. Who bring life and light, colour and beauty, meaning and joy to our lives. Happy Mothers' Day!
Amen
---
Announcements
This week's events and announcements
---
April 28, 2019
By John Christoffersen
'Changing the World, Not the Word'
based on Acts 5:27-32
The apostles are in prison because of their witness. They were doing what they believed they were commissioned to do.
However, it is clear that their actions conflicted with what the authorities believed, thereby leading to Peter and the apostles appearing before the Jewish leadership.
According to Acts, the apostles were warned and then imprisoned because of their teaching about Jesus as well as healing the sick and those afflicted with unclean spirits. In other words, they were drawing public attention in continuing the message of a Jewish man who was executed on a Roman cross, thereby implicitly continuing to challenge Roman rule.
Ancient rulers could define how the people in their kingdoms lived and they had the ability to take or save the lives of their subjects.
Peter and the apostles, faced with a conflict between God's authority and human authority, had to speak and act cautiously yet courageously.
Notice how the apostles aimed to serve and glorify God and not advance their own power.
The apostles do not resist the wider authority of the Jewish Council or harbor anger toward authority in general. Their disobedience was based on a specific point. The apostles also spoke with calm conviction and did not slander or disrespect those in authority.
Finally, the apostles accepted the cost of being loyal to their truth.
Verses 30 and 31 highlight the truth of how God's power trumps human authority:
THE GOD OF OUR FATHERS RAISED JESUS FROM THE DEAD – WHOM YOU KILLED BY HANGING HIM ON A CROSS.
GOD EXALTED HIM TO HIS RIGHT HAND AS PRINCE AND SAVIOUR…
The defining element of Jesus' rule and thus his everlasting kingdom is one of overturning earthly power and dominance. The cross is the yellow brick road that leads to Jesus and his eternal kingdom.
Overturn is the key word here. The death of Jesus is overturned by his resurrection. Jesus' death is not the final word but the pathway into a life of renewal. Resurrection symbolizes that the ideologies of power and dominance in an old system of governance can wither and die. What follows is a new and better life.
Amen.

By John Christoffersen
An Individual Voice Within a Worshipping Community
based on Psalm 118: 14-29
Psalm 118 is a psalm of thanksgiving by an individual, a psalm in which a single voice praises God for God's goodness bestowed upon or on behalf of that individual.
But the individual's words are also woven into the rites of the gathered community of worshippers. The psalm moves back and forth between the singular and the plural, as the worshipper approaches God in the context of community worship with individual thanks for deliverance from trouble.
Verse 14 states, "GOD IS MY STRENGTH AND MY MIGHT; HE HAS BECOME MY SALVATION", repeating the words that Moses, Miriam, and the children of Israel sang in Exodus 15 after they crossed the Red Sea. The psalmist has escaped… the enemy has perished… a new life lies ahead.
The words of verse 22 ("THE STONE THE BUILDERS REJECTED") can be thought of as a metaphor for Jesus. We may understand the "stone" as one that was initially rejected by those responsible for constructing their society. But, over time, the stone became a cornerstone, an essential for those who live a life of faithfulness.
This cornerstone, along with God's guidance, can and will receive us, rescue us if necessary, teach us how to forgive ourselves so we can forgive others, and help us to heal… thereby allowing us to grow in our humanity and willingness to serve others.
Amen.

By John Christoffersen
Doubts and Hopes
based on John 20:19-31
Welcome to Doubting Thomas Sunday. Over the next few minutes, I hope to defend the position that there is nothing wrong with being a Doubting Thomas… that doubts lead to questions and the seeking of answers.
That day… that day was a day like no other. After the reality of Jesus' crucifixion and burial on Friday, Sunday brought strange and unsettling events.
Early that morning, Mary Magdalene had come, distressed, to tell the disciples that Jesus' body was missing from the tomb. Then, later that day, Mary Magdalene had come to the disciples once again, this time breathless with excitement, saying, "I have seen the Lord."
You may have expected that by the evening of that day, after hearing Mary's news, the disciples would be celebrating. Instead, we find them huddled behind locked doors. John says that the doors were locked for fear of the Jews. Certainly they are afraid of the Jewish leaders who were involved in the sequence of events that led to Jesus' crucifixion. Understandably, they are afraid of their uncertain futures.
Maybe, just maybe, the disciples were also afraid of Jesus. After all, they had failed him miserably. Peter had denied him three times, and the remainder of the disciples, except for one, had deserted him on the day of his crucifixion.
Jesus, however, will not be stopped by locked doors. He appears in the midst of his frightened flock, not to confront them with their failures but to grant them peace.
The disciples respond by rejoicing in seeing the Lord. Again Jesus speaks a blessing of peace and sends them out to continue his mission of revealing God to the world.
For unknown reasons, Thomas was absent and missed out on this first Sunday evening meeting with the risen Jesus. Thomas then asks for nothing more than what the others have already received: to see Jesus, wounds and all. A Doubting Thomas is very different from a Discouraged Thomas… or a Disagreeable Thomas…
Yes, Thomas has doubts. He simply needs the facts in order to be solid in his mind and in his heart.
The wonder of this story is that Jesus shows up again one week later to provide exactly what Thomas needs. Thomas then responds with the highest statement of trust and relationship: "MY LORD AND MY GOD!"
Jesus' response to Thomas is a blessing for all those who will come to believe without having had the benefit of a flesh-and-blood encounter with Jesus. This is the purpose of these words.
Verse 31, "BUT THESE ARE WRITTEN SO THAT YOU MAY BELIEVE THAT JESUS IS THE MESSIAH, THE SON OF GOD, AND THAT THROUGH BELIEVING YOU MAY HAVE LIFE IN HIS NAME."
The natural thing to do when we are feeling anxious or threatened is to hunker down, lock the doors, and become focused on our own security. The promise of this text is that Jesus cannot be stopped by our locked doors. Jesus comes to us as he came to the first disciples, right in the midst of our fear, our pain, our doubt, and our confusion. He comes speaking peace, breathing into our anxious lives the breath of the Holy Spirit.
What is more, he keeps showing up. As he came back for Thomas, Jesus keeps coming back for us week after week to share with his gathered disciples – in the word, the water, the bread, and the wine.
Then Jesus sends us out of our safe, locked rooms into a world that, like us, needs his gifts of life and peace.
Doubt and hope. Thomas demonstrates that having doubt is a natural and normal part of an evolving faith.
Having our doubts resolved allows us to have the faith necessary to make the deep rooted commitment to follow Christ. Surrendering to Jesus too easily may mean that loyalty to Him can be uprooted when questions arise.
A person who has the answers does not fear tough questions. In fact, by sharing our doubts and disclosing our fears, we only deepen our trust in and respect for God.
Amen.
---
Announcements
This week's events and announcements
.
.
.
.
.
.
.
.
.
.
.
.
.
.
.
.
.
.
.
.
.
.
.
.
.
.
.