---
---
Pacific Mountain Regional Council of United Church of Canada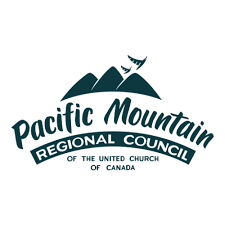 About Pacific Mountain Regional Council of UCC (BC Conference)
Pacific Mountain Regional Council(BC Conference) is an administrative and service-delivery body of The United Church of Canada. The executive Regional Minister is Treena Duncan. Pacific Mountainn Region Council provides staff, finances, advice, advocacy and programming resources to 200+ congregations, hundreds of ministry personnel and numerous ministries in British Columbia including camps, social service agencies, housing and care facilities, chaplaincies, hospitals and educational centres.
The Pacific Mountain Regional Council President(president-elect) is the elected at the Annual General Meeting. The President-Elect serves on the Regional Council Executive for one (1) year as President-Elect, two (2) years as President , and one (1) year as Past-President. The current president turns the reins over to the president-elect (elected at the previous AGM) at the conclusion of the meeting.
Next Meeting of Pacific Mountain Regional Council The general meeting will be in-person (with an on-line option) at Prince George from June 9-12.
for more info see the Pacific Mountain Regional Council website.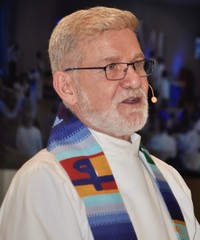 President - Rev. Blair Odney
Short biographies follows:
Rev. Blair Odney
, recently elected to the role of President of Pacific Mountain Region of the United Church of Canada at the 2017 AGM in Penticton. Blair is the lead minister at Lynn Valley United Church in North Vancouver where he has served for the past 10 years. Over those years, Blair has worked with the people of that congregation in the precarious work of property AND congregational redevelopment. Who are we as the people of the way, and how will we show up in this community, have been living questions. The number one priority for all of us at LVUC was to figure out how to be kingdom people even as we lived as itinerant church.
Blair has served the wider church in a number of capacities: he has served on the General Council Worship and Music Committee, he has chaired Music United - the United Church association of musicians. He has chaired Vancouver Burrard Presbytery, he has provided music leadership at many United Church events and last year, he chaired the Theme and Worship Committee of the general meeting of BC Conference.
One of the treasures that Blair brings forward from the clay jar, as an ambassador for Christ is the resounding gospel message that each of us is God's beloved, called into the fullness of who we are, to bring healing and hope to a world that seems to pit one against the other. Echoing the sixth day in the story of creation, the church's job is to help people to remember their goodness, and that of all creation; loving the world as God's loves the world.
"The people who walked in darkness have seen a great light; those who lived in a land of deep darkness— on them light has shined" - Isaiah 9:2
Hello Beautiful friends of Pacific Mountain Regional Council,
Grace and peace to you in the name of the one in whose footsteps we follow.
I write this from the quiet of my home, where the gentle light from the moon pours into the living room and casts a glow of warmth and serenity. I feel cradled in the arms of love, somehow, preparing for the season of waiting. As I think of the devastating events of the past two weeks as well as the year that was, the moonlight pouring into our living room really has me wondering whether liminal space is now a permanent reality. What we have been is gone. What we are to become is not yet here. We continue to live in this space of not knowing. For a denomination that, as I look back, was birthed seeming to know its next step, these days beg the question "Oh God why are you silent?" How many times have I heard, "they didn't teach this in seminary"? "No committee ever dealt with this kind of strange."
There are beacons of light throughout the region that point to possible scenarios. From the grand and beautiful re-opening of St. Andrews Wesley in downtown Vancouver, to the experiment of Weird Church on Vancouver Island. From what looks like the very real re-development of the Mission at First United in the downtown east side, to the "hybrid" work from Trinity in Prince George. United Online is teaching us about growing sustainable virtual communities, while the Region's First Third Ministry Team is beginning the long game of growing new and sustainable ministries with children, youth, young adults and their families, which is part of the Region's call for healthy communities of faith.
There are many other examples, but (yes, the but is intentional here) all of this is percolating in the cauldron, the refining fire of reconciliation. Even as these beacons of light point to possibility, the Indigenous Circle Calls to the Church remind us:
"The United Church is asset rich. Rich in land and properties. These lands were stolen by false promises in treaty negotiations. We meant to invite settlers to our lands and that we would share it. It would feed us both. But we are cut off from the land. Justice in land matters must be about reparations and not only apologies".
This reality accompanies us in perpetual liminal space. What does it mean for every ministry of the United Church of Canada to be working on what has been described by Indigenous elders as stolen land? The United Church of Canada is called beyond what we've known, to set down what we have believed to be unshakeable certainties, to walk in humility, in confession and in open hearted reconciliation. We are called to be the light we say exists.
And that's what I know for sure. It might be the only thing I know for sure. The moonlight pouring into our living room reminds me of this text from Isaiah. While the liminal space in which we find ourselves, may feel like an unquenchable fire, a land of perpetual darkness, the light has already shone. It can not be extinguished. We just need to be it. As the living, breathing, healing, gracious body of the living one, we are called to be the light.
Like Christ, we are called to meet people where there are, wherever they are, and love them for who they are. And then we are called to help them discover the next version of their best selves. The light of Christ changes everything.
In light of where we are as church, may this season of Advent, this liminal time of waiting, prepare you for the Christ who changes everything.
With many blessings,
Rev. S. Blair Odney
President
.
Pacific Mountain Region Presidents
| | |
| --- | --- |
| Years | Name |
| 2022-2024 | Ms. Deborah Richards |
| 2020-2022 | Rev. Blair Odney |
| 2018-2020 | Rev. Jay Olson |
| 2017-2018 | Rev. Cari Copeman-Haynes |
| 2015-2017 | Rev. Keith Simmonds |
| 2014-2015 | Rev. Karen Medland |
| 2012-2014 | Rev. Jenny Carter |
| 2011-2012 | Rev. Deb Bowman |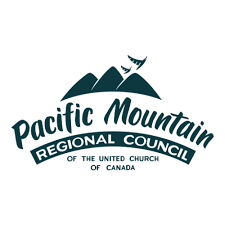 Pacific Mountain Region website

Pacific Mountain Region News releases.

Sign up for weekly Pacific Mountain Region updates.

broadview.org
Founded in 1829, Broadview is the oldest continuously published magazine in North America and the second oldest in the English-speaking world. It has won international acclaim for journalistic excellence and garnered more editorial awards than any other faith-based publication in Canada.
Broadview and Broadview.org are owned and operated by Observer Publications Inc., a non-profit corporation registered under the Canada Not-for-Profit Corporations Act. While Observer Publications is affiliated with The United Church of Canada, it is an independent corporation, with its own policies, procedures and editorial programs. The publication is supported by subscriptions, newsstand sales, advertising, donations and grants.
Previously called The United Church Observer, The New Outlook and The Christian Guardian, Broadview is the fourth and current name in the publication's history. Now celebrating 190 years, the publication remains committed to highlighting stories about spirituality, ethical living, and social justice from a progressive Christian perspective, as well as sharing news and perspectives from and about The United Church of Canada.